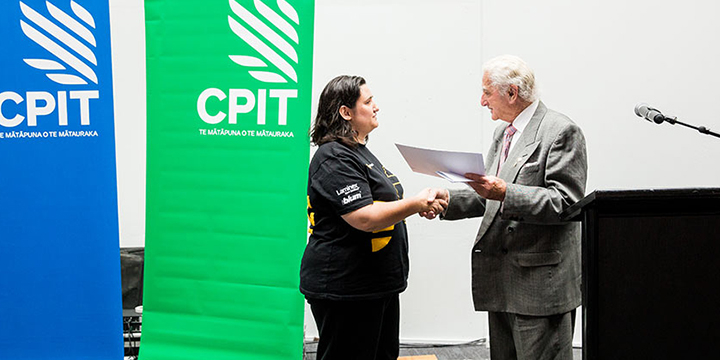 Cathie Schofield is thrilled to be the first woman to win the Ara Foundation Colin Russell Award for Excellence in Trades.
The Award, which comes with a $1,000 grant, recognises her commitment to and success within the trades industry.
"I didn't realise at first until I went up to receive the award and Colin told me in person. Then afterwards I thought, wow, that's a really cool thing – to be the first woman to get the award, I must be doing a really good job!"
After several years out of the work force raising her two children, Cathie enrolled at the Ara Institute of Canterbury in February 2014 in a Level 2 pre trade course in Furniture and Joinery. She went on to complete Level 3 and Level 4 training before completing her training in 2015.
Cathie says to start with she was very nervous.
"It was scary – I had no experience and I was going into a really male dominated area. But after a few days of awkwardness and feeling a bit lost, I found out I didn't have to do it all on my own. Everyone was really lovely and willing to help."
Proving herself as an excellent trades student, Cathie was employed by MWF Joinery in July 2015. Her employer describes her as 'work ready 'and an 'awesome employee, who has fitted in well with all the staff'.
Ara Foundation Chair Carl Pascoe says it is no small feat to take a leap and change life's trajectory.
"One of the aims of the Ara Foundation is to support the development of skills essential to the rebuild of Christchurch. We are thrilled to see Cathie has put her all into the opportunity provided, learn an entirely new skill set and truly excel in her chosen field," Carl Pascoe says.
In addition, ten deserving Ara staff and students are starting the new year $20,000 better off, courtesy of Ara Foundation support.
Grant recipients include Joshua Morris-Bamber, Callum Swarbrick and Cina Wigmore who were each awarded a Karen Lewis grant for their efforts in Food and Hospitality.
Joshua Morris-Bamber needed new equipment to attend Ara's Patisserie course. He was awarded $5000. Callum Swarbrick was awarded $3000 to complete an International Wine and Spirits Level 3 qualification in the United Kingdom and to enable him to attend a French wine tour. Cina Wigmore was awarded $1500 as a contribution to her living costs and this year's study at Ara.
For more information about the Colin Russell Award or to speak to award recipients or to interview Carl Pascoe please contact: Fiona McLeod 021 544 982.