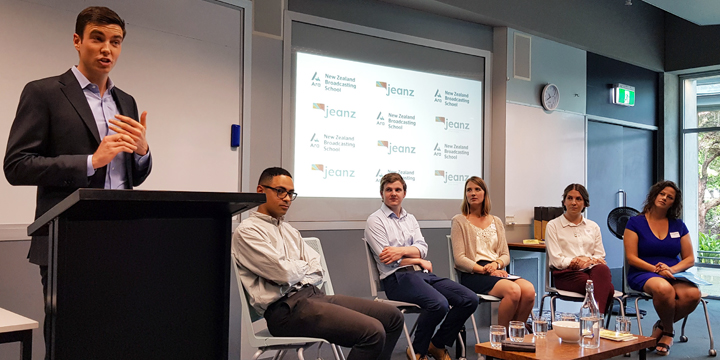 JEANZ, the Journalism Education Association of New Zealand, is a network of professional journalism educators that supports and promotes journalism training at tertiary level, as well as fostering research into journalism education. Every year JEANZ holds an annual conference and in 2019 Christchurch had the opportunity to host. 2019 JEANZ President, Karen Neill, who is also a Senior Academic – New Zealand Broadcasting School, Ara Institute of Canterbury, applied to the Ara Foundation for a grant to enable the New Zealand Broadcasting School (NZBS) at Ara to host the conference.
"The conference attracts delegates from New Zealand and Australian tertiary training organisations. The grant from Ara Foundation enabled us to secure travel for a keynote speaker and media professionals to take part in discussions over the two days, networking opportunities, and a chance to promote NZBS and Ara. We would not have been able to host it without this support," says Karen.
The conference was held on 2-3 December and the theme was Why Journalism Matters, which Karen says sparked dialogue around the changing nature of journalism education, and journalism as a career choice.
The conference opened with a keynote address by former NZBS-graduate and Broadcasting Minister Hon Kris Faafoi, and was followed by a panel on Funding the News (with Chair Paul Thompson, RNZ Chief Executive; Sinead Boucher, Stuff Chief Executive; Mark Jennings, Co-founding Editor of Newsroom; and Jane Wrightson, Chief Executive NZ On Air). There was also a panel discussion on the Christchurch Mosque shootings with journalists who covered the event (Kamala Hayman, Editor The Press; Jehan Casinader, Reporter TVNZ; Katie Scotcher, Reporter RNZ and ex-student; and Thomas Mead, Reporter TVNZ).
Day two started with a live stream keynote address from Mel Bunce in London, author of The Broken Estate: Journalism and Democracy in a Post-Truth World and was followed by a panel on the Future of News (chaired by NZBS alumni Jack Tame with student-alumni from JEANZ-member institutions). Over the two days there were also 12 research presentations on a range of topics including journalism education and industry practice, and a member debrief from the 2019 World Journalism Education Congress (WJEC) in Paris.
Karen says invited speakers from major media were unanimous that the industry needs more qualified journalists and confirmed that the opportunities are there for students who can write and want to change the world.
Karen says the conference was a great success, and further cemented the NZBS and Ara as a leading provider of tertiary media training in New Zealand.