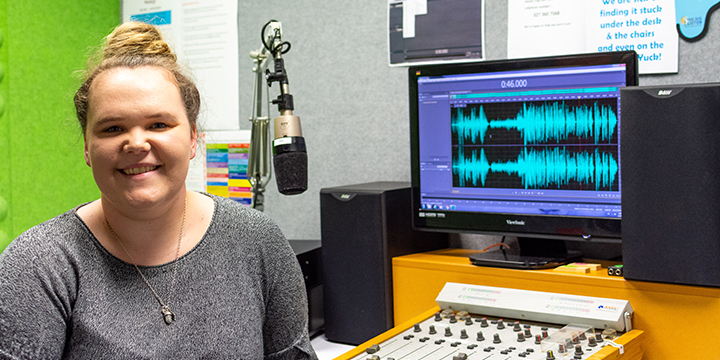 Just over thirty years ago, in 1988, the iconic community access radio station, Plains FM 96.9, found its feet thanks to Dr Brian Pauling, former head of Ara Institute's New Zealand Broadcasting School. Since then, its airwaves have given a voice to diverse citizens, a community of people to which many broadcasting school graduates have also belonged as they have taken to the radio and enjoyed thriving careers.
Sharing the same building as the broadcasting school, Plains FM has long enjoyed a special relationship with the respected institution, and the basis of this relationship has given rise to some impressive opportunities. Case in point are three internships that received funding from Ara Foundation, with one student per year granted an internship in the years 2015, 2016 and 2018.
Contributing half the cost towards these 24 week internships – with Plains FM covering the remaining bursary cost from its salaries budget – Ara Foundation has enabled three students to flourish with a real-world, hands-on experience in a busy broadcasting environment.
In 2015, Jamie Larson began his 24 week internship as a Production Assistant learning the radio ropes, from producing talk back content to live-to-air panelling. Post-education and internship, Jamie cut his teeth in the working world as a full-time staff member for Plains FM before landing a role with MediaWorks in Auckland. He has just been employed to work for a new sports radio station launching in London as a producer and tech runner. "I think I've learnt quickly that community radio will always be something I'll return to one way or another," Jamie says of his compelling experience.
In 2016, Varian Kerr began her internship with Plains FM as Content Assistant. From assisting with production and presentation of Lite L8 Breakfast show, to assisting staff with podcast uploads, Varian is now working for The Australian Radio Network in Sydney in a commercial radio environment.
In 2018, the third and final intern, Emily Hickman, made her community radio debut as a Content Assistant, learning the complex scheduling and play-out system through to producing pre-recorded programmes. She has just accepted a permanent role with Plains FM. "I can already say with confidence that I am coming out of the internship a better broadcaster and a better person than I was before."
Ara Foundation provided $14,437 towards half the costs of three internships with Plains FM, which gave three individuals the opportunity to launch a career in radio.