By Luke Hempleman.
The Foundation was pleased to be able to provide funding for Luke Hempleman, a student at Ara, to attend the Shakespeare Globe Centre Young Shakespeare Company in London. Here's an edited slice of what he experienced…
"Walking into the Globe Theatre for the very first time is a special experience for anyone. Walking into the Globe Theatre for the very first time knowing that in two weeks you'll be performing on that stage is something else entirely. It's magic. I felt so satisfied and full, but so hungry for more.
It's hard enough to describe any one part of the trip without breaking into tears because I want to repeat it all again, let alone every moment of it.
So I'll just give special mention to a few things.
The opportunity to see some of the best theatre in the world was incredible. I saw/went to a grand total of seven performances in London alone, three scheduled Shakespeare plays at the Globe: Romeo and Juliet, Much Ado About Nothing, and Twelfth Night, one performance of Salome at the National Theatre, and I used my first free night to see Wicked, the free afternoon where we were supposed to go to a museum to see An American in Paris in the afternoon, and the free day to go to the Proms.
The Shakespeare plays we saw at the Globe were ridiculously good. They were modern, intimate, understandable, and basically brilliant. There is nothing like the feeling of standing, technically, in the middle of a performance. When we watched Much Ado, I was standing in-between two actors, one on the stage and one in the audience, as they spoke to each other over me. You are as much a part of the action at the Globe as the actors themselves, and it's incredible.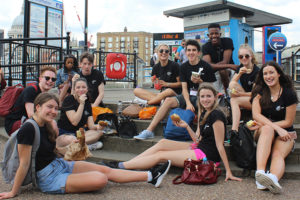 One more thing I want to mention about the weeks in the lead up to the performance is of course, the workshops and wonderful staff at the Globe Higher Education. All of the staff were wonderful, willing to help in any way they possibly could and at the drop of a hat. All of the workshops were invaluable, I learned something new in every single one, whether learning about the history of Shakespeare, The Globe, and London, or improving on my craft in workshops or rehearsals.
Our director, Timothy Walker, our movement coach, Glynn MacDonald, our singing tutor, Joe Atkins, our voice coach, Lucinda Worlock, changed the way I perform. Each one of them is incredible at their craft, and having the chance to learn from them is unbelievably valuable. They pushed and challenged me out of my comfort zone, pushing me to improve my craft and myself in ways I never thought I needed to, in ways that at the time I didn't want to, but I did, and now I am a better actor for it. I think before I went, part of me thought that our time at The Globe would be the pinnacle, we've done the hard yards and now we can just revel in our success. Boy was I wrong. And boy was I glad I was wrong. Because everything we learned was so invaluable and so changing, and I am so much prouder of my performance because of everything I learned.
I was the first person to speak in our performance. We all walked on singing, but I was given the prologue, so I was the first one to speak. I think it goes without saying that I felt a lot of pressure. But when you walk out on to that stage, it's almost biblical. You can feel the energy of the audience, their eyes turning to you as you enter. You can feel the energy of your best friends around you, matching yours and lifting you even higher. And you can feel the energy of the building. That wooden 'O' swirling all the energy and spirit of past performers around you, filling you from the bottom up to the top. When you speak, you forget everything. You don't think. You just do. You're not trying to overpower the theatre, or the audience, or your partners, you're matching it, bringing it up, lifting it further, giving that energy that's filled you so completely, right back. It's bloody great.