Ara Foundation has a new Chair Fiona McKissock, elected by trustees in May 2017.
Fiona says it's a great privilege to be appointed to the position of chair.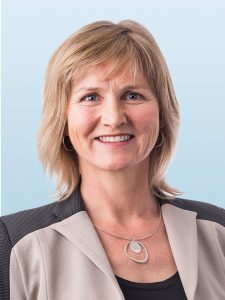 'Ara Foundation grants make a real difference to the lives of Ara staff and students,' Fiona says. 'I am looking forward to leading the direction of Ara Foundation and contributing towards achieving its vision over the next four years.'
An Ara Foundation trustee for 3 ½ years, Fiona brings a broad range of commercial, financial and management experience to her role as chair. Fiona's current role is General Manager Valuation and Advisory Services for Colliers International in Christchurch. Prior to that, she was CEO of Lakes Leisure, a Council Controlled Organisation of Queenstown Lakes District Council.
'Together with trustees, I'll be working to build the Foundation's ability to respond to and support immediate and long-term initiatives, projects and opportunities that enhance the experiences of Ara staff and students and support the all-round contribution Ara Institute of Canterbury makes to the wider region and beyond,' Fiona says.
Fiona McKissock replaces outgoing chair Carl Pascoe, who contributed more than 15 years' service to Ara Foundation.
Another change to Ara Foundation governance is the appointment of a new trustee to the board, Brett King.
Brett is Executive Divisional Manager with Fulton Hogan. He is a Member of the New Zealand Institute of Directors and serves on the Aoraki Development and Promotions Board. In 2005, he was appointed a life member of New Zealand Red Cross – having served on boards at both a regional and national level. Brett has also served on the board of Mid-South Canterbury Rural Fire.
Ara Foundation is a charitable trust established in 1984 to mentor, support and offer real world opportunities to staff and students at Ara Institute of Canterbury.
Grants of up to $5,000 and beyond are offered by Ara Foundation throughout the year. Click the links to check out the grant criteria and to make an application.