A newly registered nurse's findings on art therapy in end of life care have been positively received by industry professionals.
Angela Burke presented her master's thesis Catheters and Canvases – the arts in palliative care at The New Zealand Palliative Care Conference recently, attended by long-standing dedicated palliative care professionals, including clinical nurse specialists, doctors, psychologists and charge nurse managers.
At the time of the conference Angela had only just started a graduate nurse position at Wellington Hospital having completing her training and study at Ara Institute of Canterbury.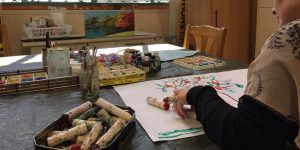 The paper, which will be published in Kai Tiaki Nursing New Zealand magazine in December, highlights the benefits of art therapy and recommendations around how it can be better incorporated into palliative care services throughout New Zealand.
Angela said she received positive feedback from attendees, including one who was actively encouraging closer ties between the arts community and palliative care services.
"She was extremely excited as she herself is an artist and has seen the immense benefits and enjoyment patients gain from engaging in creativity", Angela said.
"This was very encouraging as it affirms the paper and recommendations are more than 'good ideas' but are practical, applicable and effective in the real world of palliative care services.
"I very much look forward to the future of art therapy in palliative care for New Zealand and I hope to play some part in the championing of this and trust that this initial paper has served this cause in some way."
Ara Foundation provided Angela with a grant of $750 making it possible for her to attend the conference.
Ara Foundation Chair Carl Pascoe said the Foundation was thrilled Angela had the opportunity to attend and present at the conference.
"We encourage other Ara students and staff who come across opportunities to share learnings and experience, or to increase their knowledge and understanding, to apply to the Foundation for funds to support their endeavours", Carl Pascoe said.
Click apply now to apply for an Ara Foundation grant.
Image: courtesy of Hospice West Auckland Arts Therapy Service.