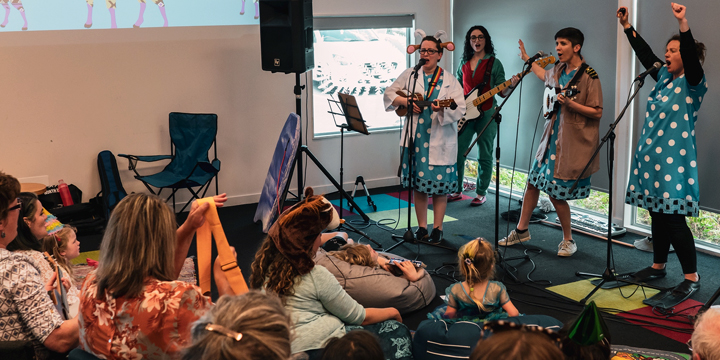 Anne McMahon is a third year student studying towards a Bachelor of Music Arts at ARA Institute of Canterbury. For her Capstone (final) project, Anne wrote an album of Children's music called Animal Adventure which was recorded by her band Angelfish Kids.
A requirement of the course work was a final performance of the piece, so Anne planned an album release party of Animal Adventure and a free community concert performed by Angelfish Kids. To help make the event happen, Anne applied for a grant from the ARA Foundation and the trustees felt it was a project worthy of a grant.
"I was able to do a really wide range of things with the grant, I printed and delivered fliers to local schools, paid for social media advertising, bought props, prizes, costumes, hired a professional photographer and gave a koha to the venue. I was able to try things I would not have been able to without the ARA Foundation grant and it gave me a wonderful opportunity to grow my brand Angelfish Kids for the future."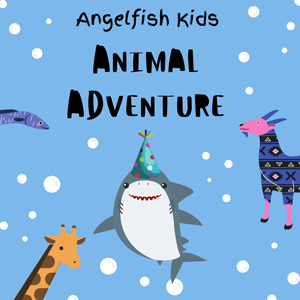 Anne said it was a learning experience to bring all the artist development parts of her show together.
"It was challenging working on the promotion and other more visual aspects of the show. It wasn't easy and I have learnt a lot from the experience, one thing being: things take longer than you expect to arrive in the post!"
When Anne completes her degree one of her goals is to take Angelfish Kids into schools.
"I am excited to have released my album and to have opportunities to keep performing the Animal Adventure show. I feel like I will continue to use the things I have learnt during my music arts degree to grow my career as a musician."
To people thinking of applying for a grant through the Ara Foundation, Anne says, Do it!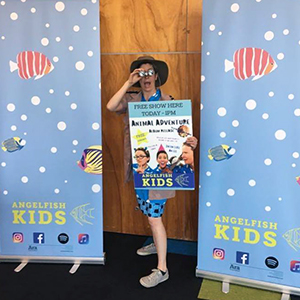 "It is a good way to get experience from both a practical point of view in terms of completing the application and from the point of view of getting the chance to complete opportunities that might not happen without a grant."
"Give yourself more time than you think you'll need, but you don't have to have everything lined up before you apply – I didn't have all my quotes for everything at the point of applying."
"Thank you to the ARA Foundation for supporting me as a musician and performer. It's awesome to have had this opportunity to put my best foot forward and to launch Angelfish Kids and Animal Adventure with an enhanced, professional show that was really fun!"