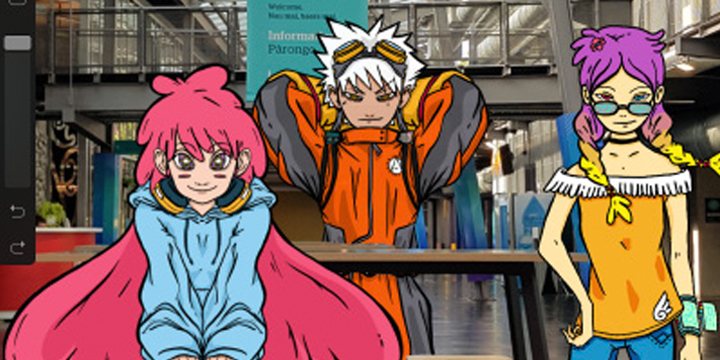 Bachelor of Information and Communication Technologies student at Ara Institute of Canterbury, Josiah Kerr, was looking for something to keep him busy over the summer. When one of his lecturers suggested working on an IT project during the break, Josiah was up for the challenge.
His idea… a virtual tour of Ara, an idea that came about after Josiah witnessed a large group of potential and new students being shown around campus.
"From what I saw, I don't think all of the students could hear what the guide was saying. I could see about five students really close to the guide getting all the information, but others weren't as engaged. That was the light bulb moment when I thought that a different solution could be offered."
Josiah's lecturer mentioned to him that there was the possibility to back a successful idea with a grant from the ARA Foundation. Josiah thought this could be the perfect project and was pleased when his grant application was successful.
One aspect of Josiah's application that was very positive for Ara Foundation trustees was that in addition to funding, Josiah identified that he needed the skills of students from across Ara to be involved to make the project successful.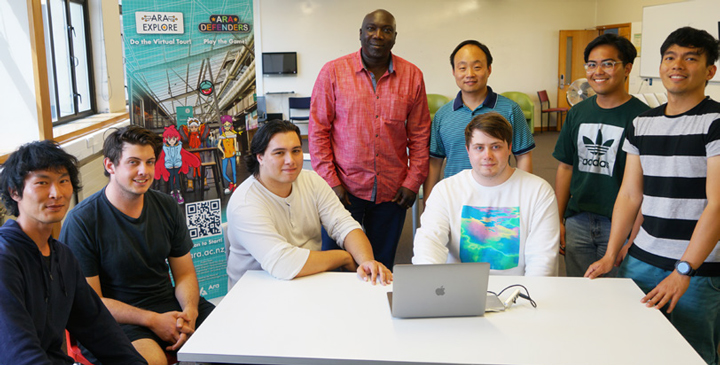 The Virtual Tour Team, left to right: Seated: Yutaka Kawakami (Programming), Dylan O'Callaghan (Game Art), Josiah Kerr (Project Manager) and Sean Ryan (code).
Standing: Tutors Dr Bernard Otinpong and Dr Luofeng Xu, and students John Ymbong (Design) and Paolo Siat (graphic design).
"We had five different departments working on the project and at least eight students ended up touching the project at some point in its development. The team was amazing, especially the designers and programmers, but everyone pitched in and you can see the amount of talent that we had involved from the final product."
The end result meant prospective students were able to visit the Ara Explore website on Open Day and from there they could choose between being guided through a virtual campus tour or playing a demo version of a virtual tour game Ara Defenders.
"We wanted to show prospective students, Ara isn't boring, we do cool stuff. We were really happy with the end result. We broke 1,000 views on the first Open Day and a lot of people played the game, so it went really well. It is still live today and Ara is maintaining the project."
Josiah said he has learnt a huge amount through this opportunity from the Foundation.
"The team involved were all doing a lot of new things, from project management to managing people and meetings. It was the best industry practice you could get!"