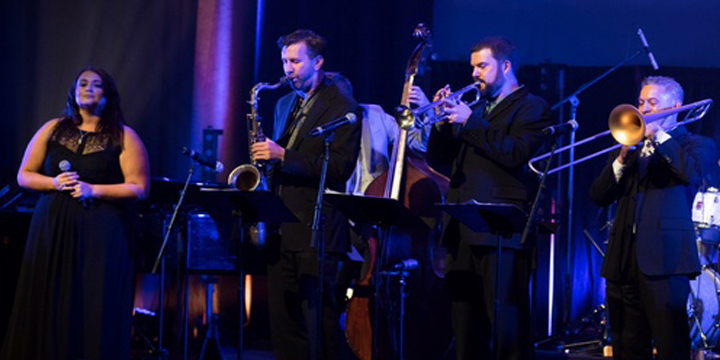 Ara Presents: 25th Anniversary Gala Concert – supported by the Ara Foundation – kicked off the Cavell Leitch International Jazz and Blues Festival. The fabulous musical showcase enticed alumni from all over the world to return to Christchurch to perform.
Former and current students and staff celebrated 25 years of Ara Music Arts with a spectacular performance at a packed out Isaac Theatre Royal in Christchurch on Wednesday, 25 May, 2015.
The concert paid tribute to the individuals that helped to establish what was formerly known as the CPIT Jazz School. It included performances from 89-year-old Doug Caldwell, Bob Heinz, Tom Rainey and Ted Meager, LA Mitchell, Oval Office, Mukhlisa and Departure Lounge.
Renowned trumpeter Cameron Pearce, a tutor at Ara Institute of Canterbury and a former recipient of an Ara Foundation grant said it was a very special occasion for the Ara Music Arts community.
"It is a huge honour and a once in a lifetime opportunity to bring everyone together and celebrate in the way we know best – through performance."
Ara Foundation Chair Carl Pascoe described the Anniversary Gala Concert as a phenomenal musical evening.
"The concert succeeded in displaying the fantastic talent of the past and present faculty and students. The Ara Institute of Canterbury should be very proud of reaching this significant milestone. What a wonderful way of looking back on the past, celebrating the people and showcasing the talent that makes up Ara Music Arts."
Ara Foundation took the opportunity to host guests to the toe tapping performance.