On Wednesday December the 2nd, Māori and Pacific student success at Ara was recognised at the 2020 Eke Panuku awards night.
Eke Panuku – which means "to achieve with distinction" in Māori – is an annual event that celebrates Ara Māori and Pacific students who have been recognised for their academic progression and commitment to community.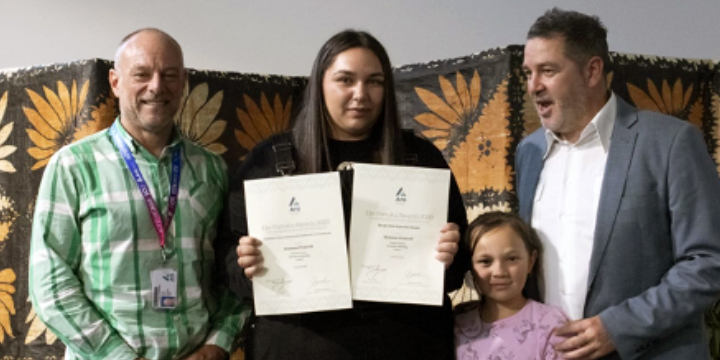 Each year, students are nominated by their peers or by their tutors and the awards evening is a moving and uplifting event that brings whānau and community leaders together with students and staff for an evening of gratitude, reflection and festivities.
Ara, alongside national body Te Pūkenga, views the achievement of equitable outcomes for Māori and Pacific peoples in education, employment and income as critically important. The Institute's 2019 Annual Report notes that there has been progress in the right direction: "The overall successful course completion rates for Māori and Pacific learners at Ara improved between 2018 and 2019…with trends in graduate numbers and progression rates for Youth Guarantee students positive, particularly for Māori and Pacific students, showing that…graduate numbers are steady and the proportion of graduates moving to higher level study with Ara is rising."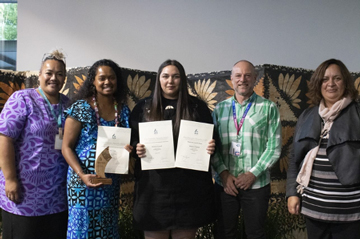 That said, the 2020 review and refresh of 'Ka Hikitia', New Zealand's Māori education strategy, reflects the reality that the current New Zealand education system is still underperforming for Māori learners and their whānau, meaning that Māori learners are less engaged with the system, and can therefore miss out on the positive educational outcomes experienced by other New Zealand learners. Ara's new Framework for Māori Achievement has been designed to help Ara turn this situation around, focussing on three principal focus areas – the integration of kaupapa and mātauranga Māori within all programmes of study at Ara; the progressive design of bespoke Māori learner support services (academic and pastoral care); and the recruitment and development of a culturally capable workforce in order to ensure that Ara's service are authentic, relevant and meaningful.
The launch of Ara's new 'Māui Te Tauira' Māori Learner Mentoring Programme is a valuable component of the Framework for Māori Achievement. The Programme is based on the transformational journey that Māui took himself and his whānau on, and encourages Māori learners to see themselves in similar light – a hero on their own journey of discovery and advancement.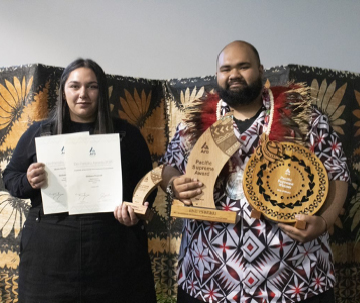 This year's Eke Panuku judging panel received a total of 70 nominations from all eight departments, and ultimately went on to proffer 34 Awards, two of which are the Supreme Awards Māori and Pacific. 18 of the Awards are Foundation Awards, which are presented to learners participating in Levels 2 – 4, and 16 are Departmental Awards.
Two of the Māori students who received a Level 4 Academic Achievement and Community Commitment award were studying within the Hospitality and Service Industries Department. Aaliyah Khan successfully completed the NZ Certificate in Travel this year, while still managing to be active on behalf of her Ara classmates and stay connected to Te Pā o Rākaihautū, a local kaupapa Māori school where she helps to run events. Aaliyah said of her studies "I want to be able to share my culture with everyone and show people who I am and where I come from, while also learning about everyone else. I enjoyed my course at Ara: I have learnt so much."
Master Moana – also known as Robbie – studied the L4 NZ Certificate in Commercial barbering. Tutor Paul Skidmore said "There is one word that sums up Robbie and that's aroha – he's embraced what it means to be both a barber and a leader. He is kind to classmates, clients and the wider community." Additionally, the generous student achieved an A+ on his portfolio while also guiding others toward achieving their own goals. Robbie, who is said to never turn down a client, commented on his experience "When I came into barbering, it was always about giving the client what they want – it was never about me; it was about my clients and focusing on delivering for them. We're always working hard, pushing to get really good grades; I studied hard because I wanted to do really well. But the underlying motivation is I want to do this because I like doing it. When it comes to representing Māori achievement, I feel like if you're inspired, then you're inspiring. It just comes naturally."
Another outstanding Māori student who received recognition during the evening was Nick Leslie, who studied a Bachelor of Information and Communication Technologies. Another A+ student, Nick consistently made a strong contribution to group work and the support of his fellow students. His final project involved an international collaboration between Ara, Jade Software, Bosch and OTH Regensberg, during which he worked with an OTH student to develop an English and German voice-activated interface for a home appliance. Not surprisingly, the talented graduate has also finished the year in hot demand, with multiple job offers after receiving a 99.2% final grade. Nick has accepted an offer from Jade Software and has begun work there, which ensures that he will not have to move far from his Ngāi Tahu homeland.
Eke Panuku offers two Supreme Awards each year: one each for outstanding Māori and Pacific students. This year's 'Pathways to Treasures' Supreme Pacific Supreme Award went to Feleti Pesefea (Afamasaga), who will graduate as Ara's first ever Master of Creative Practice.
Although he was born and raised in Christchurch, Feleti's parents surrounded him in Samoan culture. He says their hard work and sacrifice gave him and his siblings the educational opportunities they themselves never had. "My parents think in a way that's typical for first-generation parents – they want us to be doctors, they want us to be lawyers, you know, it's the classic thing. For me it was a different path, and it was just around based around church, with all of the Easter plays and all those other things that are heavily in the performing arts and storytelling areas. I just naturally drifted that way – it would be different for a kid growing up who had no connection to the church."
Feleti's work adapts traditional Samoan performance forms of music, song and movement to give audiences a heart-stopping interpretation of the Samoan 'Mau' independence movement of the 1920s.
Supervisor Tony McCaffrey is thrilled to be supervising the Institute's first Creative Practice Master and is especially happy that Feleti is choosing to explore his Pacific heritage. Tony says of Feleti's work "What's exciting about the Master's project is that he's not only going to use ensemble dance, singing and performance forms from Samoa, but also storytelling with characters that relate to today and to the Mau movement of the 1920s."
The performance, which was staged over two nights to over 500 people on the 4 -5th of December, speaks to young Samoans of the culture of their ancestors and their search for identity throughout a process of diasporic displacement.
Feleti spoke to the assembled crowds and acknowledge the important contribution that Ara Foundation, the Creative Industries Department, the Pacific Advisory Group, NASDA and the Music Arts Department have all made towards the achievement of his vision.
Tanya Muagututi'a, who for over 20 years has developed Pacific performance in Aotearoa with Pacific Underground and who also works for the Christchurch and Auckland Arts Festivals, characterised the evening as "another form of performance."
The Monte Ohia Supreme Award for most outstanding Māori learner went to yet another A-average student. Shahana Truscott, a 3rd year Bachelor of Nursing studentwho is the first of her whānau to finish secondary schooling and will be the first to graduate from tertiary education. She is a caring and supportive mentor for her fellow students, but also impressed during her recent clinical placement, with tutors praising her integration of indigenous health theories into her practice.
Shahana plans to start her career as a Registered Nurse shortly and is passionate about mental health. She is particularly focused on working to improve Māori mental health patients' care. She says "I'm grateful to my whanau for supporting my aspirations; it's been challenging to step into higher education, as it felt out of reach. But now I'm keen to work as part of a team that works towards improving Māori mental health statistics; assisting individuals, whānau and communities to achieve positive mental health outcomes. I would also like to do postgraduates papers in the future to further develop my skills and knowledge of Māori mental health."